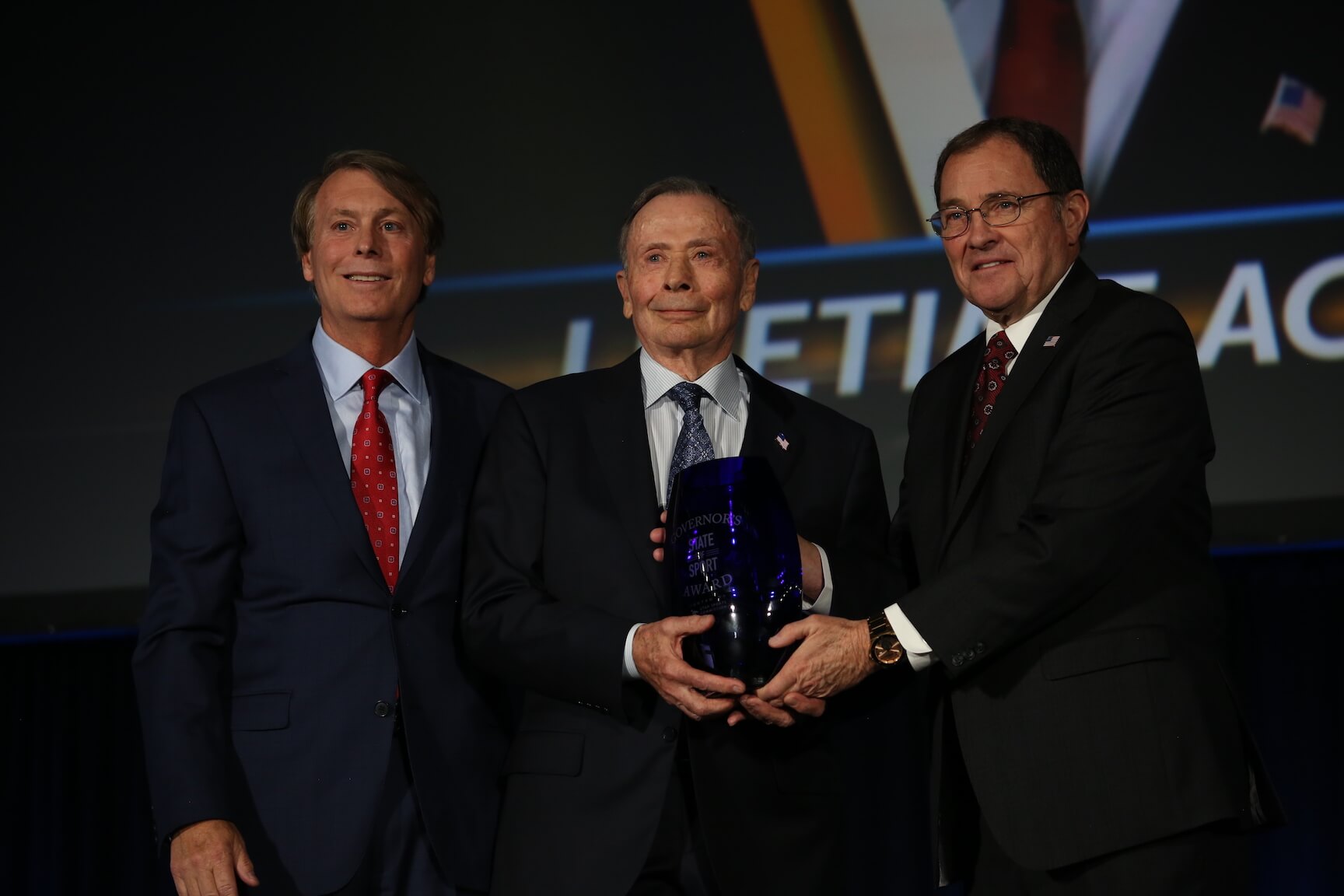 Lifetime Achievement Award
U.S. Ambassador John Price
Utah's John Price is a remarkable story of an immigrant boy who came to America and forged a career as a global leader and a passionate fan of motorsports in his adopted state. Price possesses significant experience in entrepreneurship, foreign relations and political issues, the future of sub-Saharan Africa, terrorism concerns, as well as a love of sports and vintage race cars. With success in business, Price began to acquire vintage race cars, which spurned his interest in racing, and later other extreme sports activities such as running marathons, the Ironman Triathlon, off-road racing and high altitude trekking. Price's mantra throughout his sports achievements has been, that just to finish was winning.
He was born Hans Joachim Praiss in 1933 in Spandau, Germany. In 1939, at the age of five, his family fled Nazi Germany, eventually settling in New York City in 1940. Price first visited Salt Lake City as a geology student in 1954. He quickly realized the Wasatch Mountains is where he wanted to be. Two years later, he graduated from the University of Utah with a degree in geological engineering.
Price grew to become one of Utah's most prominent businessmen. He enjoyed success in a variety of fields both throughout the Intermountain region and nationally, and served on numerous local, state, and national boards.
On February 8, 2002, the opening day of the Salt Lake City Olympics, John Price was sworn in as U.S. Ambassador to Mauritius, Seychelles, and Comoros. Price served as ambassador until June 17, 2005.
Price recently produced "Boys of Bonneville: Racing on a Ribbon of Salt", a documentary highlighting the story of David Abbott "Ab" Jenkins. With almost superhuman stamina and boyish charm, Ab set out to single-handedly break every existing land speed record on the Bonneville Salt Flats of Utah. With the newly restored Jenkins' iconic "Mormon Meteor III" the car was returned for ceremonial laps on the Salt Flats. "Boys of Bonneville" was selected at many film festivals, and won a number of awards.
Price preserves early car racing history at the Price Museum of Speed in Salt Lake City, featuring the Mormon Meteor III, which started the competitive endurance racing history on the ancient salt bed in Western Utah. The museum's collection includes a rare display of early racing history. Many of the vintage racers either won or placed well in numerous events such as the Grand Prix, Le Mans, Morris Park, Briarcliff Cup, Daytona Beach, Gordon Bennett Cup, Empire Track at Yonkers, Sheepshead Bay, Indianapolis, and Mille Miglia. The mission of the museum is to display unique vintage racers and memorabilia for future generations of car enthusiasts to enjoy.