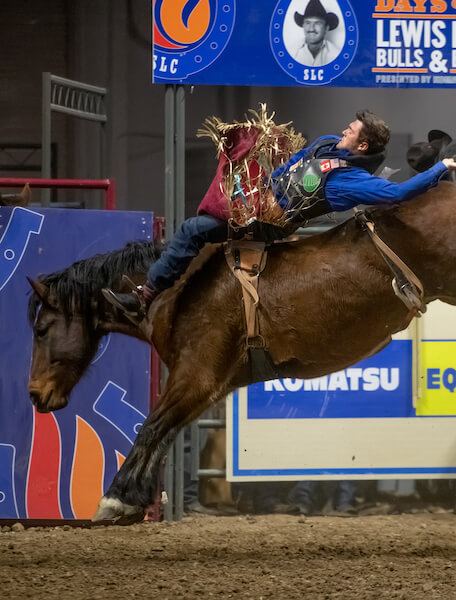 Lewis Feild Bareback Riding Award
Caleb Bennett, a seven-time Wrangler NFR bareback rider, is the recipient of the 2019 Lewis Feild bareback riding award. Bennett was born and raised in Utah where he got involved in rodeo qualifying for the National High School Rodeo Finals all four years and winning the bareback title in 2007.
The Lewis Feild Award is given annually to the bareback rider that performs the best at the Days of '47 Cowboy Games and Rodeo (Salt Lake City), the Fiesta Days Rodeo (Spanish Fork) and Ogden Pioneer Days. In 2018, Bennett won the bareback riding title in Spanish Fork and Ogden to capture the award.
He attended Weber State University in Ogden and graduated from Utah Valley University with a degree in marketing. He qualified for the College National Finals as a freshman in 2008.
He first qualified for the Wrangler NFR in 2012 and has been there every year since. He has won over $1.2 million in the PRCA and won the Ram National Circuit Finals Rodeo in 2014. He currently serves at the PRCA event representative for the bareback riding.