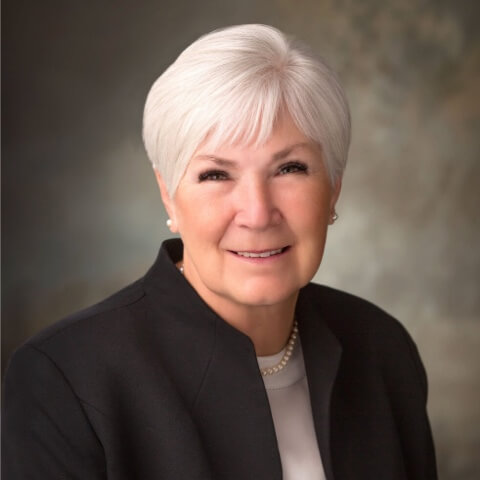 Lifetime Achievement Award
Owner & Chairman, Larry H. Miller Group of Companies
As a businesswoman, philanthropist and family leader, Gail Miller has touched millions across her home state of Utah. She and her late husband Larry, along with their entire family, created a strong legacy of enriching lives and giving back to the communities in which they do business.
The impact of the Miller family on sport in Utah has been profound, from its own sports properties to broad support across the state. Gail was named the Most Influential Person in Utah Sports in 2019 by The Salt Lake Tribune and selected as the 2019 Utahn of the Year as chairman of the board, advocate for the homeless, example for women in business, believer in education and owner of an NBA team. She was instrumental in the Utah Jazz' success in bringing the 2023 NBA All-Star Game to Salt Lake City.
She has also used her leadership role to transcend sport into social good. She was the driving force in starting the Together initiative (www.leadtogetherutah.org) to stand up to racism and hate speech in sports.
Growing up in Sandy, she never imagined where her life would take her. Her 2018 book, Courage to Be You: Inspiring Lessons from An Unexpected Journey, recounts her life's success but also its challenges: financial struggles, family trials, and personal loss. Through it all, she has had courage to move forward and remain grounded in her faith. Her candid stories and personal insights about faith, hard work, grief, and many more topics have fascinated and inspired readers.
The Larry H. Miller Group began with the purchase of a single Toyota dealership in 1979 and is now comprised of more than 80 businesses, including 65 automotive dealerships, the Utah Jazz, Vivint Smart Home Arena, the Salt Lake City Stars, the Salt Lake Bees, theatre complexes, and a variety of other companies. The privately owned Larry H. Miller Group of Companies is headquartered in Sandy, Utah and employs more than 10,000 people.
Gail also serves as chair of Intermountain Healthcare's Board of Trustees and on the Zions Bank Advisory Board. She is a member of the National Advisory Council at the University of Utah, the President's Leadership Council at Brigham Young University and co-chairs the Kem C. Gardner Policy Institute Advisory Board. She is a member of the Shelter the Homeless Board, and the Gail Miller Resource Center for homeless men and women bears her name.
She has been recognized with many public honors including Doctors of Humane Letters from the University of Utah and Salt Lake Community College, and an honorary Doctor of Humanities from Weber State University. The Congressional Award Foundation has honored Gail with its prestigious Horizon Award. She is the recipient of the Salt Lake Chamber's highest award "A Giant in Our City," as well as the internationally-recognized ATHENA Award.